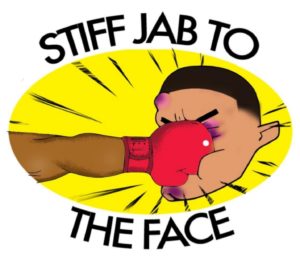 ®
CURRENTLY UNDER CONSTRUCTION
---
STIFF JAB TO THE FACE® is a Superior Quality, Meticulously Detailed, High- End, Urban Apparel Line.

Welcome to the STIFF JAB TO THE FACE® website !
We are currently updating our website to ensure that you have the BEST experience possible. We THRIVE on your satisfaction and will soon be able to guarantee it ! Thank you for your support, patience, and visit. We hope to see you again soon when we are up and running !
"SJTTF" apparel is proudly made in the United States of America.
STIFF JAB TO THE FACE® IS A REGISTERED TRADEMARK. ANY AND ALL INFRINGEMENT VIOLATIONS WILL BE PROSECUTED TO THE FULLEST EXTENT OF THE LAW.